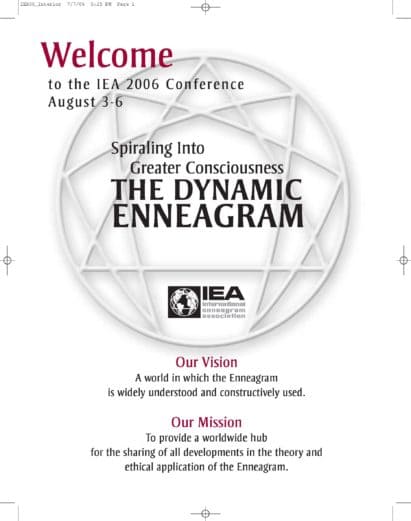 This seminar demonstrates how leaders of businesses and organizations can use the Enneagram to quickly analyze the causes of interpersonal friction between "negative" staff and their colleagues. Seminar will present a positive Enneagram focused on the gifted assets and attendant limitations of each type. A person becomes "negative" by misuse of his/her type's asset in an unsuitable situation. The presenter will guide participants through an accurate and effective flow-chart identification of type issues and dynamics. Using teams of three, the participants will practice a business-tested model that utilizes staff resources to negotiate resolutions to sticky, unpleasant situations. Discussion and handouts suggest how the ideas and dynamics can be used in any organization.
Patrick H. O'Leary, M.S., M.Div., co-authored the first Enneagram text, The Enneagram: A Journey of Self-Discovery, in 1984 (ISBN 0-87193-214-8). He is an international management consultant specializing in organizational development since 1972. O'Leary began teaching a continuing series of Enneagram courses at Cleveland State University in 1994. He is one of the Founders of IEA and served as its Executive Director in 1996.
O'Leary's study of the Enneagram began in Chicago with 1971-72 graduate seminars taught by Bob Ochs, a Loyola University professor who had just returned from a year of personal study with Claudio Naranjo, M.D., in California. O'Leary integrated his studies in environmental biology, physiology, psychology, the Myers-Briggs Type Indicator (MBTI), individual counseling, spiritual direction and organizational development into his understanding of the Enneagram. He began offering various seminars on the Enneagram in 1972. The 1984 text was written to summarize further understanding of the Enneagram obtained from thousands of participants who attended those early seminars. In 1991 O'Leary began an international series of certification programs to train Enneagram teachers.
Patrick O'Leary
2006
2006 IEA Global Conference
Chicago, Illinois, USA
The following content is accessible for members only, please sign in.
DO log in with the personal email address for your IEA member account.
DO NOT log in with an email address for an Accredited Enneagram School (AES) accounts or Accredited Training Program (ATP).

AESs and ATPs no longer have separate accounts.

Instead, log in with the sponsor's IEA member account in order to make changes.
If you believe this is an error, try signing out and signing in again.