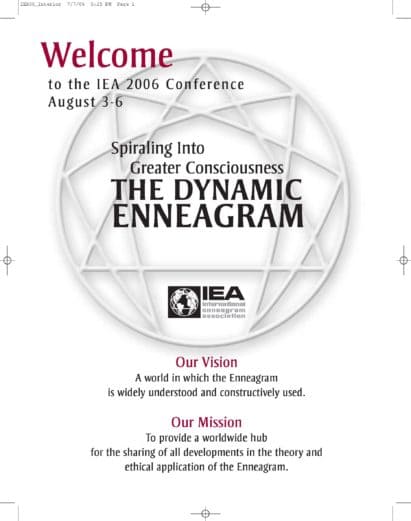 We all sell. Use your knowledge of the Enneagram to sell the Enneagram to corporations, churches, community groups and clients. This session will help you: – Understand your Enneagram style's sales motivation – Learn the steps of a proven sales process from prospecting to closing – Clarify which steps of the sales reflect your style's strengths and where to focus your energy for improvement – Build an initial sales plan – Set realistically audacious sales goals – Become comfortable addressing objections, discussing price, and comparing the Enneagram to its `competitors' such as DISC and Myers-Briggs – Leave knowing that selling is not a bad word and that you can sell with confidence and integrity Valerie Atkin has spent the last 30 years selling. In 1991 she founded Wells Street Consulting and has been selling her services as a consultant, trainer and coach to clients big and small ever since. Her current clients include Caterpillar, Herman Miller, and Pfizer.
Valerie Atkin
2006
2006 IEA Global Conference
Chicago, Illinois, USA
The following content is accessible for members only, please sign in.