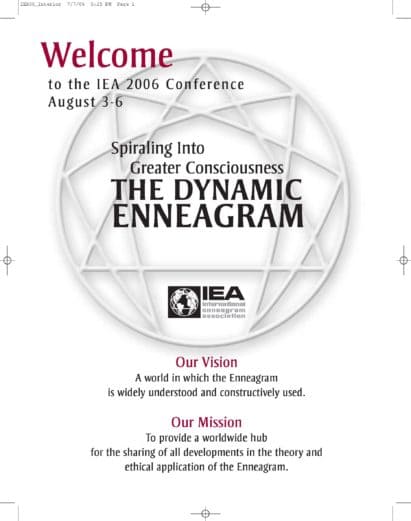 Move from "consciousness becomes you," to "consciousness becomes you." The work of consciousness is not instantaneous. As the Dalai Lama has said,"The person who seeks instantaneous consciousness has experienced an inner collapse."
Carl Jung, George Gurdjieff, Maurice Nicoll, the Dalai Lama and most of the great spiritual teachers say that having an original, spiritual, personal vision for your life is an essential starting point on the journey to consciousness. This vision must get inside you in order to have the power to drive you toward consciousness. Then it must be expressed in your outer life. This presentation will explore this movement.
What are the natural resources for consciousness that are revealed by your Enneagram type? What are the qualities that would help you nurture your personal vision of wholeness? What are the qualities you are willing to work on today? Kindness? Service? Forgiveness? Love? Gratitude? Compassion? Each will increase consciousness, but if you attempt to work in every area simultaneously you will quickly become discouraged and give up.
Daily life presents all of us with the issues we need to pay attention to. What are the steps you can take in your everyday life? The time is NOW.
(See Friday Afternoon Session I, page 22 for Kathy Hurley and Theodorre Donson biographical information.)
Kathy Hurley
Theodorre Donson
2006
2006 IEA Global Conference
Chicago, Illinois, USA
The following content is accessible for members only, please sign in.
DO log in with the personal email address for your IEA member account.
DO NOT log in with an email address for an Accredited Enneagram School (AES) accounts or Accredited Training Program (ATP).

AESs and ATPs no longer have separate accounts.

Instead, log in with the sponsor's IEA member account in order to make changes.
If you believe this is an error, try signing out and signing in again.