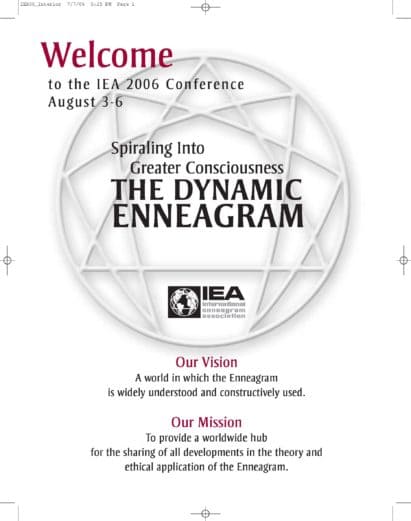 Awareness combined with action does create dynamic change and healing. The Enneagram gives us a powerful way to observe the personality, patterns of thinking, feeling, and behaving. Many of us have grown in our relationships through the profound awareness and understanding available through the Enneagram. However, we may still find ourselves stuck in habitual patterns because the patterns themselves need to be healed and moved. The Internal Family System (IFS) model is a profound tool for compassionate action, which heals the stuck patterns within our personality structures. We will use the IFS methods to directly access our Enneagram personality patterns, explore their origins, witness their contribution to our survival, and open to the healing of patterns that are stuck.
At the conclusion of the workshop the participant will be able to: 1) describe the basic components of Internal Family systems (IFS) model of therapy by identifying the role of protective parts and discussing the role of self leadership; 2) use the IFS model of therapy to identify the constellation of parts associated with their Enneagram type; 3) discuss the clinical benefits of using the IFS model and the Enneagram together as a therapeutic intervention for inner change.
Elizabeth Taeubert has over 20 years experience in the field of training and development and has been teaching the Enneagram for over 10 years. Additionally, she teaches the Internal Family Systems model of therapy. She currently maintains a private practice in psychotherapy and works with organizations as a relationship consultant
Annette Spiezio is president of Spiezio and Affiliates, Assistance Toward Authentic Living; an organization providing Counseling and Consulting services for Individuals, Families, and Organizations. Annette has held clinical and administrative positions in the pastoral and behavioral health fields in private community and health care settings for over 25 years. She is certified as an IFS clinician and has been using the Enneagram and IFS to inform and inspire her work and life for years.
Elizabeth Taeubert, LCSW:
Annette Spiezio, LCPC:
Elizabeth Taeubert
Annette Spiezio
2006
2006 IEA Global Conference
Chicago, Illinois, USA
The following content is accessible for members only, please sign in.
If you believe this is an error, try signing out and signing in again.