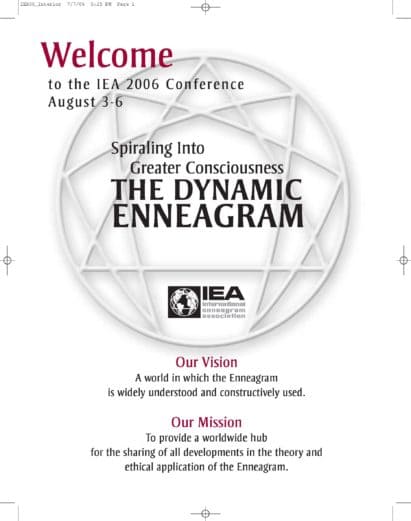 The Enneagram is becoming increasingly popular in organizations. However, many Enneagram practitioners still question how to work with the Enneagram in the business setting. What are the possible approaches and how are they perceived? How to adapt the Enneagram teachings to the business agenda? What do organizations expect? To what extent are organizations ready for this work?
Rather than advocating one particular Enneagram approach to take with organizations, this presentation aims to present several different possibilities. These approaches are based on successful business cases from Enneagram business consultants, trainers and coaches from all around the globe who have agreed to share their experiences. Taking all the approaches into account, this presentation will point out some golden rules in working with the Enneagram in organizations and clarify what is reality and what is myth. In addition, we will discuss specific behaviors each Enneagram type tends to display in organizations and how to deal with them.
Uranio Paes, MBA, Received his MBA at Fundacao Getulio Vargas (FGV), considered by many as Latin America's top business school. He completed an Extension course in International Management at Erasmus University Rotterdam, in Holland. He has been a business consultant since 1990 and a serious Enneagram student since 1996. He was the first Brazilian Enneagram teacher certified by Helen Palmer and David Daniels and is now their Affiliate teacher, responsible for organizing and co-teaching the Enneagram Professional Training Program (EPTP) in Brazil and other Latin American Countries. He is a Board member of the IEA and a Professional member of the Association of Enneagram Teachers in the Narrative Tradition (AETNT). He has been an Enneagram trainer, consultant and coach since 2000, with over 3,500 students from some of the most important national and multi-national organizations operating in Brazil, including several of the top 50 local companies. Paes runs UP9 DESENVOLVIMENTO HUMANO (www.up9.com), a company dedicated to Enneagram-based services for South American organizations and businessmen, focusing on applications in change management, strategic planning, leadership development, conflict resolution, team building and coaching.
Uranio Paes
2006
2006 IEA Global Conference
Chicago, Illinois, USA
The following content is accessible for members only, please sign in.
DO log in with the personal email address for your IEA member account.
DO NOT log in with an email address for an Accredited Enneagram School (AES) accounts or Accredited Training Program (ATP).

AESs and ATPs no longer have separate accounts.

Instead, log in with the sponsor's IEA member account in order to make changes.
If you believe this is an error, try signing out and signing in again.