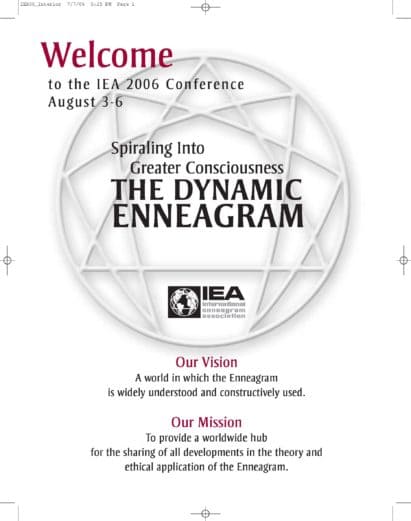 This presentation will explore the impact of subtype, separate from type, on relationships. The three major instincts and the subtypes which are formed by them have a powerful impact on our style of relating. Subtype differences play an important role in personal and intimate relationships. Participants will explore a current relationship and leave the workshop with greater consciousness about this relationship as well as a better overall understanding of the influence of subtype on relationships.
A variety of teaching formats will be used. Following a brief introduction reviewing the main elements of subtype, a guided visualization will allow each participant to identify a current relationship to focus on during the program. Each of the three major groups will be further subdivided into three smaller groups according to the subtype of their chosen relationship partner. These nine subgroups will explore and record blessings/strengths, challenges/problems and how to work with the challenges. Three short panels with different subtype combinations (SP-SC, SP-SX, SC-SX) will conclude the program.
Terry Saracino, MA, MBA brings over 17 years of experience teaching the Enneagram as a tool for psychological and spiritual growth. As founder of The Enneagram Center in Denver, CO, she developed many innovative classes. Terry currently teaches internationally in the Enneagram Professional Training Program with Helen Palmer, David Daniels and Peter O'Hanrahan.
Terry Saracino
2006
2006 IEA Global Conference
Chicago, Illinois, USA
The following content is accessible for members only, please sign in.
DO log in with the personal email address for your IEA member account.
DO NOT log in with an email address for an Accredited Enneagram School (AES) accounts or Accredited Training Program (ATP).

AESs and ATPs no longer have separate accounts.

Instead, log in with the sponsor's IEA member account in order to make changes.
If you believe this is an error, try signing out and signing in again.