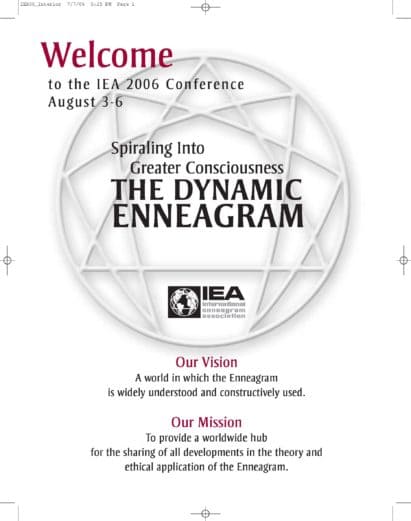 [NO RECORDING]
Often the strongest, most convincing onscreen performances are the result of actors playing characters resembling their own Enneagram personality type. This is truly "typecasting." But what happens when an actor is cast to portray a person whose inherent character and motivation are ego-alien or in conflict with his or her own basic temperament?
The results can be intriguing. Sometimes, the actor's dialogue sounds true to one particular Enneagram type, but the player's inflections, mannerisms, gestures and energy evoke an altogether different type. It can be especially noticeable – even disturbing -when an actor is portraying a real person, contemporary or historical, who has an identifiable personality style very unlike the actor's.
Using entertaining film clips from movies old and new, Scott will illustrate and discuss some of the glaring disparities and subtle distinctions that can be detected when actors play characters written or conceived as a type not their own. We will also contrast the feeling and impact of a performance by an actor securely portraying his or her own personality style with that of the same actor playing out of his or her league.
Gayle Scott is a veteran of Hollywood film and television production with over 20 years' experience in all aspects of production, having worked extensively in Europe, Africa, Australia, Canada and the U.S. In the mid `90's, her work with actors inspired her to combine her professional expertise with her passion for the Enneagram. She began employing the Enneagram as a tool for psychological character development in script development and acting, leading to her pioneering specialty of Enneagram Consultant to Actors and Screenwriters. Her clientele has included many well-known actors, opera singers, writers and directors.
Gayle is the Director of the Enneagram Institute of Colorado. She is a certified senior teacher and faculty member of the RisoHudson Enneagram Institute. A founding Board Member of the IEA Southern California chapter, Gayle relocated to Boulder, Colorado, in 2002 to pursue her ongoing psychospiritual studies in the Ridhwan/Diamond Approach School. She is the founding President of the Colorado Chapter of the IEA. Ms. Scott serves on the Board of Directors of the IEA and was the Chairperson of the 2005 IEA Conference in San Francisco.
www.enneagayle.com
Gayle Scott
2006
2006 IEA Global Conference
Chicago, Illinois, USA