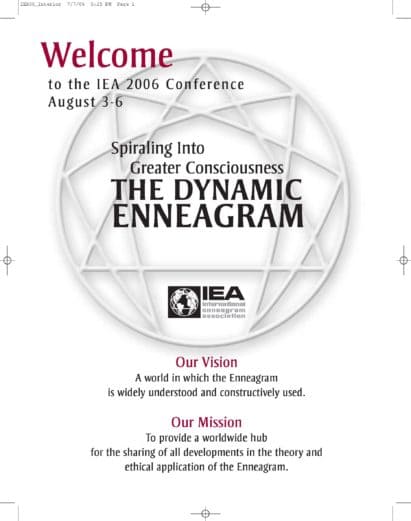 I have a method for teaching young children the Enneagram using materials I have developed. I've tried them out in the classroom and with individual children and would like to share my ideas with conference attendees. My materials are most appropriate for teaching children from age 6 to 12. In some cases, they can be used for ages 3 to 14. In the classroom, they work best for children from third grade to sixth grade. My method can also be modified for younger children.
There are five steps, which I will describe in detail.
In my presentation, I will share my materials and demonstrate how I do it by having the workshop members participate as though they were a class – I will do my best to make it a spirited class.
To see children enthusiastic about learning the Enneagram for the first time is to see a spiral of curiosity rampaging through a classroom. If any teachers are present who have used this method I would encourage them to come and ask them to share their experiences.
Elizabeth Wagele was a professional musician before writing and drawing Enneagram books. She is the author of The Enneagram of Parenting and a CD, The Enneagram of Beethoven, where she talks about Beethoven's personality and music and plays from his piano sonatas. She is the co-author of Are You My Type, Am I Yours? and The Enneagram Made Easy. These books have been translated into 8, 11, and 17 languages. Published articles include a review of the movie A Heart in Winter; The Enneagram and the Shadow; Dial E for Murder; Unconscious Reasons for Choosing the `Wrong' Type; and A 5 on Music, the Enneagram, and Infinity. Elizabeth presented her Beethoven Enneagram at the IEA Conference in Baltimore, and the closing ceremony of the IEA Conference in Denver.
2006 will introduce two new Wagele books: The Happy Introvert – A Wild and Crazy Guide for Quietly Celebrating Your True Self and Finding the Birthday Cake. She is currently working on How to Survive Death with renowned cartoonist Harry Gans.
Elizabeth Wagele
2006
2006 IEA Global Conference
Chicago, Illinois, USA
The following content is accessible for members only, please sign in.
DO log in with the personal email address for your IEA member account.
DO NOT log in with an email address for an Accredited Enneagram School (AES) accounts or Accredited Training Program (ATP).

AESs and ATPs no longer have separate accounts.

Instead, log in with the sponsor's IEA member account in order to make changes.
If you believe this is an error, try signing out and signing in again.