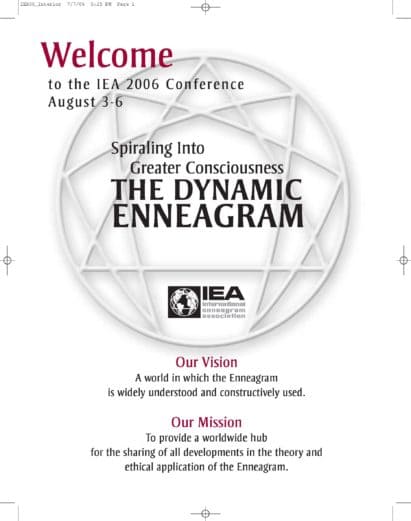 Mystics of the world's religious traditions describe practices and pathways for spiritual awakening. The paths they describe are frequently difficult and not readily accessible to the ordinary person, and, at worst, can be dangerous to one's psychological and physical well-being. In this session Dr. Whittaker proposes that using the Enneagram with practices for inner observation provides effective, attractive, and safer paths to integration and wholeness that are readily available to a broad spectrum of people.
This session will open up a discussion regarding whether the psychic, subtle, and non-dual structures of consciousness that Ken Wilber designates as "higher" or more complex are not actually "lower" or less complex structures which are internal and precede egoic consciousness. If so, then spiritual development may be a matter of awakening to or becoming receptive to that which is already contained and known precognitively or intuitively within oneself.
This course will provide an understanding of 1) the distinction between inner structures of consciousness and higher or more complex structures, 2) the potential value of using the Enneagram map in conjunction with practices for inner observation as a method for growing toward personal wholeness, and 3) the idea that personal wholeness and evolution of higher consciousness are not the same thing and may or may not occur in conjunction with one another in a given individual or collectively within a culture.
Carole Whittaker is a certified professional Enneagram teacher with the Palmer-Daniels training program. She teaches introductory Enneagram workshops and facilitates process work in the Enneagram with small groups. Carole has developed and coordinates an extensive program of Enneagram courses at the Franciscan Renewal Center in Scottsdale, Arizona, where she also teaches contemplative prayer and Christian spirituality. The Enneagram program includes introductory workshops, presentations by Helen Palmer, David Daniels, and Peter O'Hanrahan, and in-depth follow-on classes facilitated by local teachers. She has a doctoral degree in physical chemistry and her teaching experience includes the classroom teaching of chemistry and mathematics and the development of continuing education programs in the physical sciences for UCLA Extension.
Carole Whittaker
2006
2006 IEA Global Conference
Chicago, Illinois, USA
The following content is accessible for members only, please sign in.
DO log in with the personal email address for your IEA member account.
DO NOT log in with an email address for an Accredited Enneagram School (AES) accounts or Accredited Training Program (ATP).

AESs and ATPs no longer have separate accounts.

Instead, log in with the sponsor's IEA member account in order to make changes.
If you believe this is an error, try signing out and signing in again.