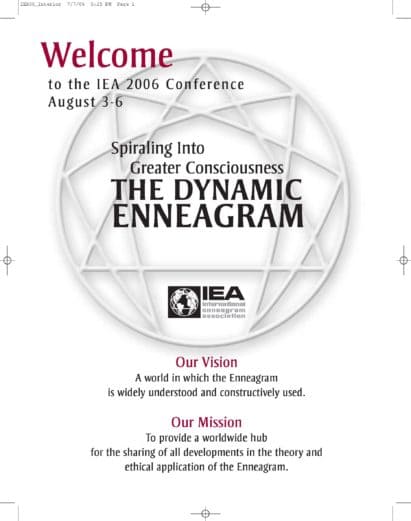 Today, when there is a need for international cooperation, business people typically learn about superficial differences among various countries, like "take your time for lunch in France" or "be aware of skepticism in Germany." In achieving real cooperation with people from other countries, however, something completely different is required: intercultural competence.
Intercultural competence consists of recognizing one's own process of judging others who behave differently than oneself. This becomes easier when one has a structure for (self-)observation. The Enneagram provides this structure. Intercultural competence enables the observer to notice paradoxical perceptions and let them be there without trying to adapt himself and without trying to change the other person. The most important intercultural skill in Enneagram terminology is "containing reactivity." Business people usually don't learn this skill in preparation for international assignments. Companies that have used the Enneagram instead of other personality type models have a huge advantage.
This presentation is based on 25 years of international training work and was mainly inspired by a recent trip around the world teaching leadership skills in Germany, France, Great Britain, India, China, Japan, the U.S., and South America. The main focus will be on how the knowledge of the Enneagram and the practice of containing reactivity leads to new and surprising solutions in various business situations.
Martin Salzwedel has worked as a public relations director for an American training and consulting firm, has been a market manager and managing director at Bertelsmann AG, Media, and a cellist with the Radio Symphony Orchestra Berlin. He has held a college teachership at "Hochschule fur Musik Franz Liszt" in Weimar (University of Weimar, Department of Music) in Cultural Arts Management and held the position of senior consultant and trainer with St. Galler Business School, Management Academy St. Gallen (Switzerland) and Boston Business School (Zurich and Boston). In 1996, Salzwedel founded Communications Consulting International, with projects in Germany, Italy, Spain, Great Britain, Netherlands, Belgium, Czech Republic, Poland, Finland, Lithuania, Estonia, Switzerland, Spain, France, China, Japan, Brasil, Canada, and the USA. He has a Master's degree in Music and a Teacher's qualification for German high school and college.
Email:
Martin Salzwedel
2006
2006 IEA Global Conference
Chicago, Illinois, USA
The following content is accessible for members only, please sign in.
DO log in with the personal email address for your IEA member account.
DO NOT log in with an email address for an Accredited Enneagram School (AES) accounts or Accredited Training Program (ATP).

AESs and ATPs no longer have separate accounts.

Instead, log in with the sponsor's IEA member account in order to make changes.
If you believe this is an error, try signing out and signing in again.