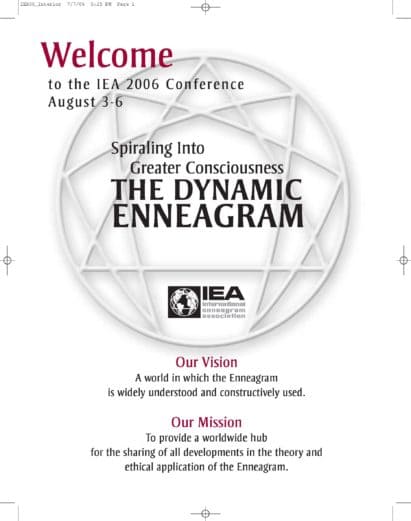 Most of us have pondered questions regarding what makes for really fulfilling relationships. How do we sustain and grow relationships over time? How do we respect and appreciate each other? What are the key ingredients? What is the mechanism of healthy conflict resolution? What is the role of spirit, sexuality, and sensuousness (contrasted to sensuality) in loving relationship? And how are men and women different and similar?
In this two-morning workshop David will address the "Nine Ingredients of Lasting and Fulfilling Relationships" with a special emphasis on the love experience of the nine types, the sexual experience and its diminishments according to type, sensuousness, and what each type needs to be aware of to enrich and sustain their vital relationships.
David Daniels, M.D., a leading developer and teacher of the Enneagram with over thirty years of clinical practice in Palo Alto, is Clinical Professor, Department of Psychiatry and Behavioral Sciences, Stanford Medical School. Since 1988, together with Helen Palmer, he has pioneered the Enneagram Professional Training Program. In his worldwide teachings, he has developed many applications of the Enneagram including therapy practices, will as a transformer, the dynamics of vital relationships, anger and forgiveness, integrating psychological and spiritual life for lasting relationships, and dream work. He has applied the Enneagram in numerous organizations in coaching, leadership development, team building, and effective communications.
Dr. Daniels was Co-director of the First International Enneagram Conference at Stanford University and is an IEA founder. He is coauthor of the best selling book, The Essential Enneagram and a developer of the DVD, Nine Paths to a Productive and Fulfilling Life and The Enneagram in the Workplace. For more information go to http://www.enneagramworldwide.com where you can determine type and subtype pattern using the Essential Enneagram selfdiscovery process, take the "Tour of the Types," experience the Voice America internet radio series, explore the relationship dynamics of all 45 combinations of types, and much more.
David Daniels
2006
2006 IEA Global Conference
Chicago, Illinois, USA
The following content is accessible for members only, please sign in.
DO log in with the personal email address for your IEA member account.
DO NOT log in with an email address for an Accredited Enneagram School (AES) accounts or Accredited Training Program (ATP).

AESs and ATPs no longer have separate accounts.

Instead, log in with the sponsor's IEA member account in order to make changes.
If you believe this is an error, try signing out and signing in again.