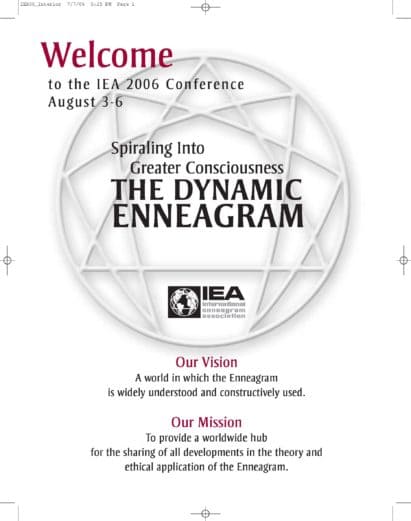 [NO RECORDING]
Consultants who utilize the Enneagram in their work with organizations will best serve their clients if they engage in an ongoing process of self-assessment. This selfassessment includes both the manner in which they conduct their relationships with clients–from the preliminary discussions through contract agreements, through delivery of consulting services–and attention to ongoing professional development. This presentation will address six basic stages of developing an effective organizational consulting relationship with a client utilizing the Enneagram: 1) Enneagram expertise; 2) entry and contracting; 3) diagnosis and client feedback; 4) intervention theories and tool; 5) facilitation processes; and 6) outcomes assessment.
The presentation will also include techniques for assessing one's current skill level in these areas. Included in the handouts for the session will be a self-assessment rubric addressing skills in these six areas.
Merri M. Monks, M.A. is an organizational consultant, writer, and certified teacher of the Enneagram. She works with organizations to develop high-performance teams with the Enneagram as a framework. She also coaches individuals personally and professionally, tailoring solutions for more productive, fulfilling lives for her clients. She teaches public classes on the Enneagram in the Chicago area. Merri has a master's degree in education and information science and is certified as a narrative tradition Enneagram teacher by Helen Palmer and David Daniels. She is also certified by Ginger Lapid-Bodga to teach the Enneagram in business settings.
Patricia Bidol-Padva, Ph. D. is an international consultant with over twenty-five years of experience helping clients design and implement complex organizational change, create mutually beneficial partnerships, and respond to multi-party disputes. She uses a wide range of OD Change approaches such as transformational change modalities, the Enneagram, and adaptive processes.
Patricia Bidol-Padva
Merri Monks
2006
2006 IEA Global Conference
Chicago, Illinois, USA