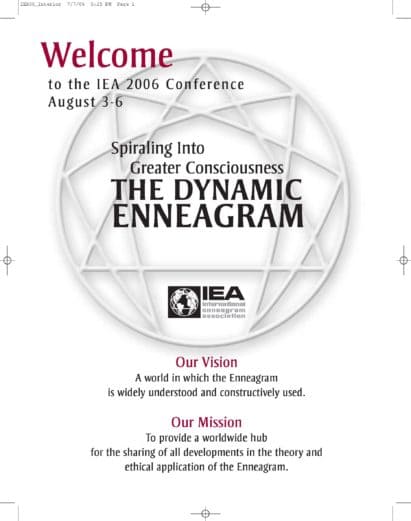 The Passions ("capital sins") and resulting Fixations of the nine personality types of the Enneagram are well-known and relatively easy to understand since they are such a central part of our daily experience. This is generally not true of the Holy Ideas and the Virtues since they are experienced only when we are free of our personality. In this session, Don and Russ will present the traditional Virtues (and Ichazo's rationale for assigning them to each particular point), while making some suggestions about which Virtues may be misplaced, or in need of further clarification. Participants will see how the Virtues "fit" with the Passions, and lead to the possibility of an awareness of the Holy Ideas–as an aspect of a unified vision both of the blocked human personality and the liberated human soul.
Don and Russ will guide participants in discriminating between the Virtues, bringing greater clarity and recognition. We will see that the Virtues are not actually far from our own experience: when we are present and awake in the moment, they arise naturally because they are already present in our Essential Nature. These "higher" aspects of the system actually reflect our personal experience and are understandable and accessible to everyone and do not depend on learning esoteric or special "secret teachings." Music and an exercise are planned.
Don Riso, M.A., is one of the foremost teachers and developers of the Enneagram in the world today. A best-selling author in the field, he is President of Enneagram Personality Types, Inc., coFounder of The Enneagram Institute, and a Founding Director of the IEA. Don's five best-selling books, co-authored with Russ Hudson, have sold over a million copies worldwide and are available in many foreign editions. He lives in upstate New York. Don and Russ teach in Europe, Japan, China, South Africa, South America, and throughout the United States.
Russ Hudson is one of the principal scholars and innovative thinkers in the Enneagram world today. Russ brings a longstanding involvement in several spiritual traditions, including the Gurdjieff Work and the Ridhwan School. Russ is the Executive Director of Enneagram Personality Types, Inc. and co-Founder of The Enneagram Institute. He is a Founding Director and former Vice-President of the IEA. He holds a degree in East Asian Studies from Columbia University in New York, from which he graduated Phi Beta Kappa. He lives in Manhattan. Don and Russ' contributions to the Enneagram are described in detail on our website in the article Enneagram Contributions. Convinced that the Enneagram would not be taken seriously without grounding in modern psychology, Don devoted himself to clearly and systematically describing the types and the elements of the system as a whole. Don and Russ believe that the Enneagram is an invaluable tool for the growth of consciousness in human beings. The Enneagram helps turn the light of awareness onto those features of our personality that operate automatically, not only keeping us "asleep," but so often getting us into more trouble, more conflicts, and increasing our suffering and that of others. Given the awareness, as well as the willingness to work on ourselves, the Enneagram is one of the great helps available for alleviating human suffering. Through self-observation, we can come to a deeper level of self-awareness and self-realization. Through this process, transformation becomes not just an idea, but a reality. When enough individuals begin to change, the world will begin to change. http://www.enneagraminstitute.com
Don Richard Riso
Russ Hudson
2006
2006 IEA Global Conference
Chicago, Illinois, USA
The following content is accessible for members only, please sign in.
DO log in with the personal email address for your IEA member account.
DO NOT log in with an email address for an Accredited Enneagram School (AES) accounts or Accredited Training Program (ATP).

AESs and ATPs no longer have separate accounts.

Instead, log in with the sponsor's IEA member account in order to make changes.
If you believe this is an error, try signing out and signing in again.