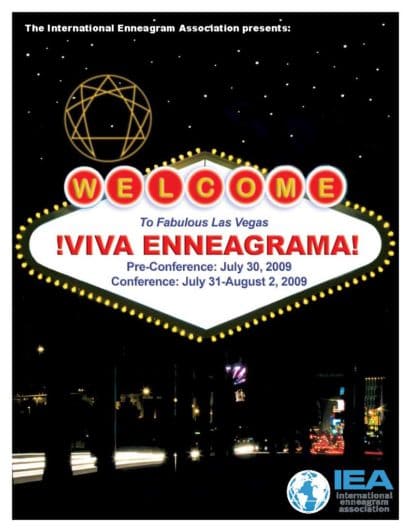 [NO RECORDING]
This year's Pre-conference offers new research on key questions that have never found a satisfying answer: Where does the Diagram come from? Why just nine? Why the peculiar star with a hole at the bottom? Why that specific order of passions around the star? Does the matrix of lines, arrows, triads and wings actually map the structure of type? And what does the Diagram say about humanity's role in the evolution of consciousness?
Tracking these questions through time has brought a fresh reading of the Diagram, and this program applies that reading to life with a vibrant ecology of mini-lectures, self-reflection, exercises, type panel inquiry, meditation and somatic restoration. These activities focus a collective lens on the Diagram as an eternal map of two kinds of knowing: the dualistic I – Thou knowing of type, and intuitive knowing in which I and Thou participate in unified consciousness, instead of being separate from each other.
Specific topics to be covered include the pre-Christian history of the Diagram and how it can be read today, recent findings in interpersonal neurobiology, the vital role of somatic restoration, and a powerful process for integration including self-management of automatic patterns. This program is for all who seek to understand more deeply the Enneagram's history, how it relates to recent findings in neurobiology, and how we can develop into more effective, caring, and whole human beings.
To get the most from this level of learning, Pre-conference Day participants should know their type and be somewhat skilled in self-observation.
Helen Palmer Teacher of intuition and bestselling author of five well regarded booksin the field of human consciousness. Two of her books on the Enneagram have been published in 27 languages. This work was the subject of a PBS television documentary Breaking out of the Box Discovering the Enneagram.
Together with David Daniels, M.D. she founded Enneagram Studies in the Narrative Tradition, a school dedicated to psychological and spiritual integration, co-teaching its Professional Training Programs. Their school has brought the integration theme to many thousands in many countries during its 20 year history. Helen is also a Fellow of the Institute of Noetic Sciences and the Waldzell Institute, Vienna.
www.Enneagram.com for Distance Learning Programs in partnership with John F. Kennedy University.
www.EnneagramWorldwide.com for international schedules on key topics of psychological and spiritual integration.
David Daniels, M.D. is a clinical professor of psychiatry and behavioral sciences at Stanford Medical School and co-author of The Essential Enneagram. In private practice for over three decades, David has taught the Enneagram system at Stanford, in the community, through the Enneagram Professional Training Program, and internationally for 20 years. He brings his knowledge of the Enneagram to individuals, couples, and groups, and to a wide range of personal and workplace applications. David is one of the founders of the IEA, having organized the first international conference at Stanford in 1994. See the Enneagram Worldwide website: www.enneagramworldwide.com/.
Peter O'Hanrahan has studied the Enneagram for 30 years and applied it in his professional practice as a counselor and body therapist. He is an associate trainer and director of internships for the Palmer/Daniels Enneagram Professional Training Program, and he teaches in the US, China, and Europe on subtypes, somatics, relationships and leadership. IEA Accredited Teacher.
Terry Saracino, MA, MBA, has taught the Enneagram since 1989, bringing it to individuals and organizations throughout the U.S. and abroad as a tool for personal, professional and spiritual growth. She founded The Enneagram Center in Denver, one of the first centers in the country to offer a variety of Enneagram courses, type groups, study groups, workshops for therapists, and Enneagrambased counseling. She is a Co-Director and Teaching Associate of the internationally recognized Palmer-Daniels Enneagram Professional Training Program and continues to develop new courses and programs on the transformative power of integrating the somatic, psychological and spiritual insights of the Enneagram. www.EnneagramWorldwide.com
Helen Palmer
David Daniels
Peter O'Hanrahan
Terry Saracino
2009
2009 IEA Global Conference
Las Vegas, Nevada, USA