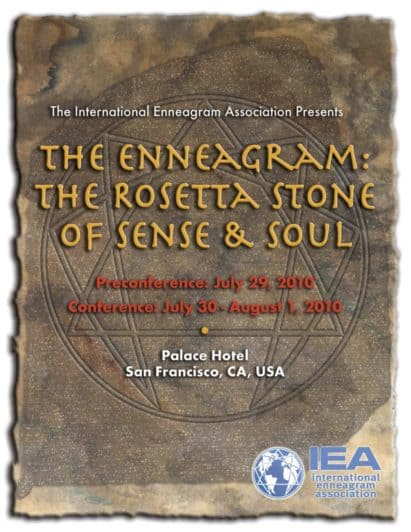 Once again, we find ourselves asking the question: What is love, really? And once again, the wisdom of the Enneagram is leading us toward greater self awareness.
We've been discussing Claudio Naranjo's description of the Enneagram types as nine disturbances of love which, once unmasked, have the power to lead us into the experience of the true love that is always present.
If we heed the warning that "real" love is often profoundly elusive — veiled by an unquenchable desire that generates a false love that blocks receptivity– we will be better skilled at cultivating what Dr. Naranjo calls: "a disposition to give, born of abundance — a phenomenon of brimming over that accompanies the fullness of being."
Since love is only possible when we are centered and disengaged from our fixation and passion, we will begin with an exploration of the nine disturbances supported by various meditation practices and intimate sharing. Our intention is to deepen awareness and sustain an embodied, unmasked presence that radiates empathy and joy.
Please join us for this experiential conversation.
Deborah A. Ooten, PhD, is the founder/director of the Conscious Living Center. She has her doctorate in clinical psychology, is an occupational therapist, a trained craniosacral therapist and a Certified Enneagram Teacher in the Narrative Tradition. She is certified by Don Beck, PH.D. in Spiral Dynamics.
She is the founder/CEO of Conscious Dynamics, a corporate training consulting and team building company.
She serves as the President of the International Enneagram Association and the Vice President of the International Enneagram Association's USA Affiliate.
Deborah believes that lives can be transformed by attending to how our personality separates us from ourselves, others, and the Divine. Deborah is a powerful presenter, a compassionate listener and a dynamic change agent.
Sharon Berbower is a longtime psychotherapist, with an extensive background in meditation and spirituality. She teaches
the Enneagram at JFK University.
Johanna Putnoi is the author of Senses Wide Open: The Art and Practice of Living in Your Body (Ulysses Press 2000),"Somatics Through the Lens of the Enneagram" (Enneagram Monthly Aug/Sept'96), and numerous other published articles. Certified in the Narrative Tradition since 1989 and Lomi Somatics since 1979, Johanna was one of the first to teach the Enneagram in combination with Somatics. She is a popular teacher at Esalen Institute and has been in private practice in Menlo Park, California, for nearly thirty years.
Deborah Ooten
Sharon Berbower
Johanna Putnoi
2010
2010 IEA Global Conference
San Francisco, California, USA
The following content is accessible for members only, please sign in.
DO log in with the personal email address for your IEA member account.
DO NOT log in with an email address for an Accredited Enneagram School (AES) accounts or Accredited Training Program (ATP).

AESs and ATPs no longer have separate accounts.

Instead, log in with the sponsor's IEA member account in order to make changes.
If you believe this is an error, try signing out and signing in again.