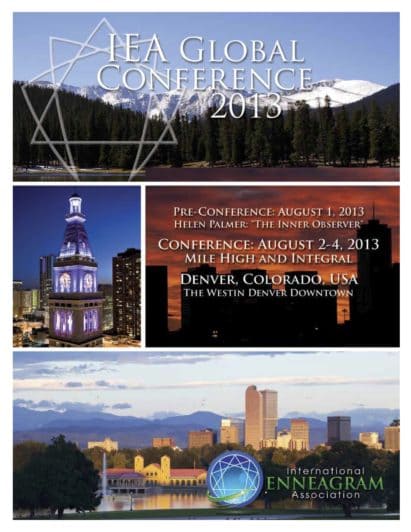 The enneagram and Ken Wilber's Integral Operating System both offer powerful tools for transformational change. As part of the research for my new book, The Integral Enneagram, I noticed that most people tend to work with one system or the other, not both. Those who do work with both systems tend to focus more on one than the other. My new book details an approach designed to synthesize the two, combining the best of what the enneagram and Integral systems have to offer. In this talk, I'll introduce the Integral Enneagram approach, describing what it is, how it works, and why it offers a particularly thought-provoking approach to enneagram work.
Susan Rhodes, PhD, (cognitive psychology), is an enneagram theorist and teacher who is also the staff writer for the Enneagram Monthly. She has written over 50 enneagram articles as well as three books: The Positive Enneagram, Archetypes of the Enneagram, and The Integral Enneagram; website: www.enneagramdimensions.net.
Susan Rhodes
2013
2013 IEA Global Conference
Denver, Colorado, USA
The following content is accessible for members only, please sign in.
DO log in with the personal email address for your IEA member account.
DO NOT log in with an email address for an Accredited Enneagram School (AES) accounts or Accredited Training Program (ATP).

AESs and ATPs no longer have separate accounts.

Instead, log in with the sponsor's IEA member account in order to make changes.
If you believe this is an error, try signing out and signing in again.