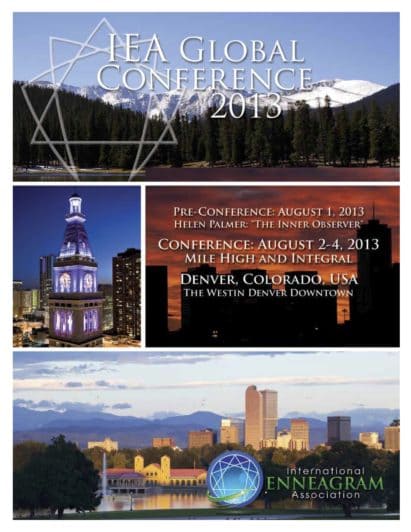 This interactive session will introduce the "Integrative Approach" through the application of the Enneagram to make sense of individual, team and organizational dynamics. By scaling our understanding of the system from microto macro-levels, the Enneagram's relevance as a sense-making framework is expanded to encompass more than the intrapersonal domain. At each level of exploration, the session will present issue-centric case studies to explore dynamics, focusing on: Centers of Intelligence; Enneagram point of resonance; Harmonic and Hornevian styles driving interpersonal dynamics; Strain/Stress. The case studies will enable participants to explore the implications of the perspective and boundaries applied to frame each situation or issue. With the Enneagram fulfilling the role of the central framework for exploring organizational health and effectiveness, we will explore polarities such as: Individual identity and organizational culture, individual strain and collective strain, leadership style and team identity. The session will build a picture of emergent complexity in an organizational context. This includes the consideration of the individual, the team, the leader in relation to the team, the team in relation to the organization and the organization in relation to its customers, suppliers and other stakeholders.
Dirk Cloete is co-founder of Integrative Enneagram Solutions. He specializes in web development, assessments, research and training. He brings a synthesis of Enneagram schools with the mystical philosophy of Astrology,Advaita, Hermetics, Kabbalah and powerful technology into Professional business coaching tools to encourage individual and team development and universal awakening.
Lucille Greeff is an Organizational Development (OD) practitioner with a specific interest in assessment, change management, organisational complexity and issue-centric OD. She is the co-developer of the Integrative Enneagram Questionnaire and co-founder of Integrative Enneagram Solutions. She lives in Cape Town, South Africa.
Dirk Cloete
Lucille Greeff
2013
2013 IEA Global Conference
Denver, Colorado, USA
The following content is accessible for members only, please sign in.
DO log in with the personal email address for your IEA member account.
DO NOT log in with an email address for an Accredited Enneagram School (AES) accounts or Accredited Training Program (ATP).

AESs and ATPs no longer have separate accounts.

Instead, log in with the sponsor's IEA member account in order to make changes.
If you believe this is an error, try signing out and signing in again.