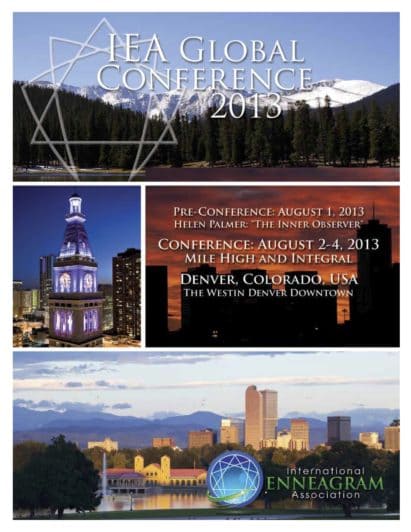 Sex and love–two topics that are rarely discussed yet rule lives when kept in the shadows. Join Dr. Deborah Ooten and Beth O'Hara in an exciting, transformative and multidimensional exploration of sex and love. Explore different conceptualizations of sex and love for the 9 types at the different levels of consciousness (Spiral Dynamics) that lead to greater conflict and separation when misunderstood yet open the doors to greater intimacy and connection when embraced with understanding and compassion. Challenge your own beliefs about sex and love through type groups, dyads and exercises that stimulate the mind, body and heart. Learn ways to shift your consciousness to a whole new level. Dr. Deborah Ooten is a pioneer in research pairing the Enneagram with Spiral Dynamics. She joins with Beth O'Hara who has studied and applied the Enneagram and Spiral Dynamics in depth. Dr. Ooten's original research on the Nine Enneagram types at eight levels of consciousness was published in the 2010 IEA Enneagram Journal. Dr. Ooten and Beth O'Hara will be presenting the next phase of this exciting, ongoing research in the areas of sex and love for the first time in this presentation.
Dr. Deborah Ooten has her doctorate in clinical psychology and is a certified Enneagram teacher in the narrative tradition. She is CEO of Conscious Living Center and Conscious Dynamics and founder of the School of Conscious Living and community. Dr. Ooten is certified in Spiral Dynamics by Dr. Don Beck.
Beth O'Hara is a certified Life Coach, Iyengar Yoga Teacher, and Enneagram teacher in the Narrative Tradition. She is a senior teacher in the School of Conscious Living. Beth holds a degree in Physiological Psychology and is certified in Spiral Dynamics through Todorovic and Cowan.
Deborah Ooten
Beth O'Hara
2013
2013 IEA Global Conference
Denver, Colorado, USA
The following content is accessible for members only, please sign in.
DO log in with the personal email address for your IEA member account.
DO NOT log in with an email address for an Accredited Enneagram School (AES) accounts or Accredited Training Program (ATP).

AESs and ATPs no longer have separate accounts.

Instead, log in with the sponsor's IEA member account in order to make changes.
If you believe this is an error, try signing out and signing in again.