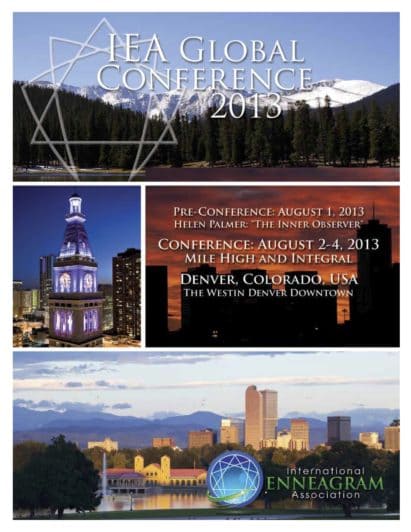 Like it or not, 2011 ushered in the advent of "senior citizenship" for the first wave of "Baby Boomers" (born 1946-1964). Thus it seems appropriate to offer a workshop that provides an extensive overview of the emerging field of Transpersonal Gerontology–a recent and powerful integration of transpersonal psychology and social gerontology (the study of aging). Harry Moody has said that,"Gerontology, until recently, took little account of developments in humanistic and transpersonal psychology." From our side, Enneagram studies have rarely taken into account important issues and problems related to gerontology, such as psychological integration and conscious aging, spiritual development and "eldering," mentoring of younger generations, life review and preview, forgiveness work, leaving a legacy, self-care, and geriatric concerns. We will look at the work of prominent theorists, including: Erik Erikson, Carl Jung, James Hillman, Lars Tornstam, Harry Moody, Rabbi Zalman SchachterShalomi, Robert C. Atchley, and V. Quinton Wacks. Then, using the Levels of Development of Riso and Hudson, the Defense Systems of Peter O'Hanrahan, and the characterological descriptions of Claudio Naranjo and others, we will see what the Enneagram has to contribute to this emerging field. The workshop will include experiential exercises and several handouts.
Carl Marsak, MA, has been studying the Enneagram since 1987 and is founder of the Enneagram Center of Ashland. He is a teacher, workshop leader, writer and spiritual counselor. Carl is currently on the faculty of his local Osher Lifelong Learning Institute, teaching spiritual subjects, including the Enneagram, to people between 50 and 94 years of age.
Carl Marsak
2013
2013 IEA Global Conference
Denver, Colorado, USA
The following content is accessible for members only, please sign in.
DO log in with the personal email address for your IEA member account.
DO NOT log in with an email address for an Accredited Enneagram School (AES) accounts or Accredited Training Program (ATP).

AESs and ATPs no longer have separate accounts.

Instead, log in with the sponsor's IEA member account in order to make changes.
If you believe this is an error, try signing out and signing in again.