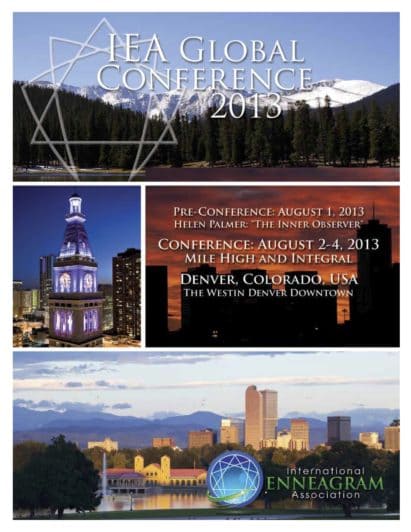 How is the Enneagram an integral gift in the hope of eliminating violence in society? What does the Enneagram teach us about the greatest force that every person is challenged to create internally to ensure that peace and harmony will overcome violence in our lives? Why is understanding the difference between intellect and intelligence key to both personal and societal healing and transformation? There is no segment of society that has not been touched by violence. Relatively few cases are sensational enough to hit the nightly news, but when they do we feel shocked, sad, angry bewildered and helpless. But are we truly helpless? The Enneagram says NO, and this workshop delves into the way the wisdom of the Enneagram can heal the wounds that result from the daily violence we all experience.
Kathy Hurley is the co-author of four books on the Enneagram and a founding member of the IEA. An artist, musician and songwriter, Hurley considers her contributions to the Enneagram world to be the crowning achievement of a life dedicated to the pursuit of healing and transformation for herself and others
Todd Kemp, MA, LPC received his Masters Degree in Counseling Psychology from the University of Denver. He is a Certified Advanced Hurley/Donson Teacher, and Kathy and Theodorre's son-in-law. Todd has studied, taught and lived the Enneagram with Kathy for 20 years.
Kathy Hurley
Todd Kemp
2013
2013 IEA Global Conference
Denver, Colorado, USA
The following content is accessible for members only, please sign in.
Note that you must log in with your individual member account.

Accredited Enneagram School (AES) accounts and Accredited Training Program (ATP) accounts are no longer supported.

Please log in with the individual sponsor account instead in order to make changes.
If you believe this is an error, try signing out and signing in again.