To celebrate the release of Jerry Wagner's "Nine Lenses on the World" in Danish, the Danish IEA invited its members to come for an evening of reflection and exercises. Lone Stephensen, the publisher, introduced the book and told us about some of the areas in which this book is different from other Enneagram books.
The evening was somewhat different from other Enneagram gatherings in that this time it was the members who discussed values, paradigms/the nine views on the world, ideals, self-images, blind spots and paradigm shifts.
A different kind of lenses
One exercise was about discussing what kind of lenses the different types use to see the world. And that's when new words were invented: Armored glasses (eights), equilibrium glasses (sixes), glasses of best intentions (twos), round-the-corner-glasses (sevens) and the brand new 360 degree space vision glasses for the nines. As you may have guessed, the glasses were meant to reflect the types' different views on the world.
If something really isn't me – maybe it is anyway?
Another exercise was for the members to write down both "what is me" and "what isn't me". Subsequently we discussed in pairs the last list and reflect whether perhaps it was us after all. Quite a few ahas were heard during that particular exercise.
That Enneagram-stuff – what can be gained from that?
Finally there was a general discussion among the people present about what they had gained from their knowledge about the Enneagram. The results were very different and perhaps unexpected: A new kind of language, more tolerance towards others, more patience and a larger understanding towards people in general. And then there was a single person who found the Enneagram knowledge annoying because now you see the repeated patterns in other people and can do absolute nothing to change them.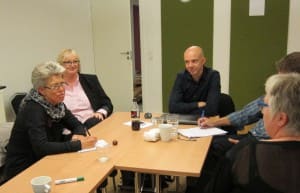 The evening included greetings from Jerry Wagner saying that he hoped to come to Copenhagen next fall.
All in all it was a somewhat different IEA evening where everybody gave a bit of themselves and everybody got something in return – including the new book in Danish.