Type as a 'gateway' to ensure victorious transformations – Using the Enneagram to map and guide successful transitions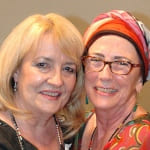 Life brings victories and major challenges. No one misses out!
Victorious transformations are rarely accidental.  How prepared are we to face our inevitable dramatic life changes?
In this session, we are offering new Enneagram insights to assess our journey through major life transitions.
–  How well are we using each of the nine Domains to negotiate change?
–  Which Domains are underused, or overused?
–  Is our preferred Enneagram type helping or hindering us?
–  What can we do to meet life's challenges and ensure victorious transformations?
By understanding what each of the nine Domains offers, we can assess how equipped we are to face life's challenges.
This workshop offers an opportunity for participants to apply a framework to their particular life transitions and find a path to transformation.
Hilary Langford has used the Enneagram for 15 years in her Organizational consulting practice, in managing the people-aspects of change, and leadership and team development.
Email:  [email protected]
Lesley McPherson is a therapist in private practice working with clients facing seemingly insurmountable life challenges. She also teaches the Enneagram in community colleges.
Email:  [email protected]
Both presenters are victorious cancer survivors.