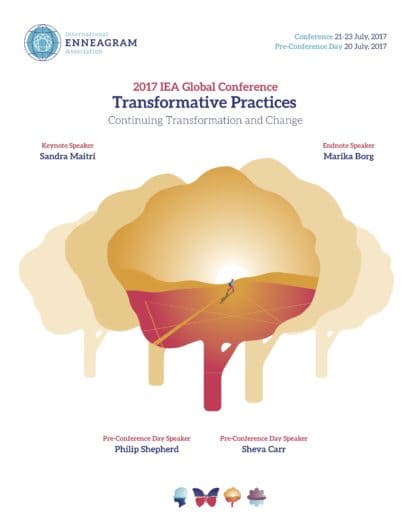 The point of using the Enneagram in coaching is to help transform ego structures, to awaken and inhabit your highest levels of development. This very introspective and interactive session will teach you how to use the Enneagram in coaching by practicing a proven, step-by-step process. You will:
1. Learn the benefits of using the Enneagram in coaching;
2. Discover how the basic fear of your EnneaType can negatively affect behavior;
3. Understand how the basic desire of each EnneaType can get distorted into negative behaviors;
4. Understand the Enneagram's natural progression toward essential Self;
5. Learn how to assess your developmental level within your EnneaType;
6. Identify the top three Enneagram Transformations that are essential to your growth now;
7. Design your own customized coaching program using the integral coaching tools of self-observations, exercises and practices;
8. Understand why these tools are transformational to your growth. You will experience this proven process yourself, to identify your own level of development and the ego structures that are still getting in your way. You will receive suggestions for an individualized coaching program to help release and transform them so that you can embody your best self–a grounded, growing, deepening, more spiritually-integrated human.
Sandy Hogan
2017
2017 IEA Global Conference
San Antonio, Texas, USA
The following content is accessible for members only, please sign in.
DO log in with the personal email address for your IEA member account.
DO NOT log in with an email address for an Accredited Enneagram School (AES) accounts or Accredited Training Program (ATP).

AESs and ATPs no longer have separate accounts.

Instead, log in with the sponsor's IEA member account in order to make changes.
If you believe this is an error, try signing out and signing in again.