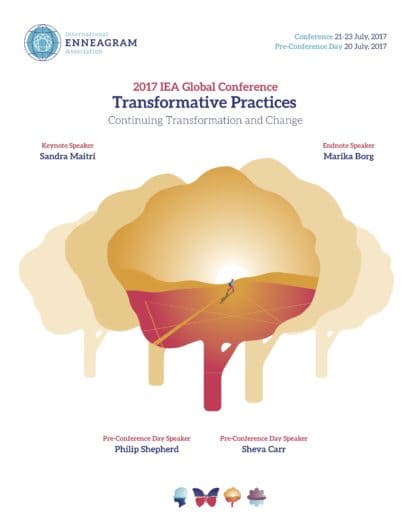 Being stuck in one's type is one of the most common problems in the Enneagram culture. The theme of this year's conference speaks to this problem. In the rush to find one's individual place in the Enneagram circle, some critical information may be passed over. For transformative practice to be effective, we need a solid foundation to build on. Understanding the triads of the Enneagram holds the key to getting out of the revolving door of pattern management.
This session will take a look at this vital information that has been missed. It will identify the three centers, increasing our awareness of the dynamic struggle for balance inside ourselves. Each of us has come to rely on one of our centers over the other two. Any practice we begin needs to focus its work on bringing our centers into agreement. Starting a conversation with each other, about our individual patterns, will begin to build a foundation for our transformational practices. Ground work for this conversation will be self-compassion, not judging what we uncover and being kind to ourselves in the process.
Mike Block
2017
2017 IEA Global Conference
San Antonio, Texas, USA
The following content is accessible for members only, please sign in.
DO log in with the personal email address for your IEA member account.
DO NOT log in with an email address for an Accredited Enneagram School (AES) accounts or Accredited Training Program (ATP).

AESs and ATPs no longer have separate accounts.

Instead, log in with the sponsor's IEA member account in order to make changes.
If you believe this is an error, try signing out and signing in again.