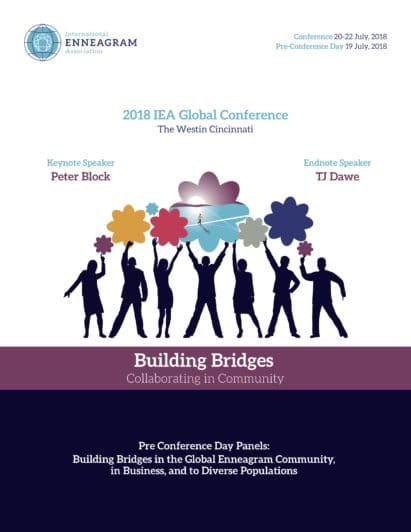 Conscious growth requires three things: a teacher, the teachings, and a community. Do you have a community who supports your Enneagram work?
Enneagram teachings alone can provide useful insight, yet when Enneagram work is done in a community, it is truly transformational. The community supports and encourages us to walk the challenging terrain of self-awareness and spiritual growth, serves as a mirror and container for our patterns, and holds us accountable to our higher selves. The community also calls us back home to our essence selves when we slip into fixation.
Through conversation and sharing, we will explore the role of community for Enneagram growth and application through different Enneagram community models operating locally, nationally, internationally, and online. We will also discuss how to build diversity and inclusivity in Enneagram communities. Further, we will discover how resistance and type can keep us from building and entering communities under the illusion of separateness and how we can loosen this resistance in order to allow ourselves the support we need on the spiritual journey. Finally, we will experience community building exercises you can take back to your local groups to continue the work.
Deborah Ooten
Jessica Dibb
2018
2018 IEA Global Conference
Cincinnati, Ohio, USA
The following content is accessible for members only, please sign in.
DO log in with the personal email address for your IEA member account.
DO NOT log in with an email address for an Accredited Enneagram School (AES) accounts or Accredited Training Program (ATP).

AESs and ATPs no longer have separate accounts.

Instead, log in with the sponsor's IEA member account in order to make changes.
If you believe this is an error, try signing out and signing in again.