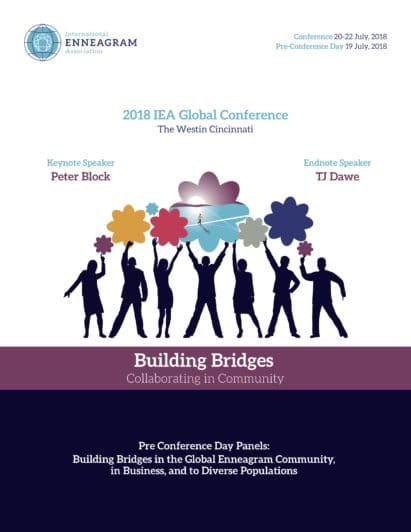 This interactive session will bridge from where you are in an important relationship to the next step in improving it, whether the relationship is familial, personal or professional. You will come away with a deeper understanding of each EnneaType's basic fear, basic desire, and inner critic message, and how these often-subconscious patterns can powerfully influence behaviors in relationships.
Using the Enneagram as a bridge to improving an important relationship, you will learn, "How to get along with me." You'll have more clarity about how you operate in this relationship, deepen your connection with yourself, and identify your needs as well as your trigger points.
Also, you will discover effective strategies to bridge the gap to an important "other." Through course content, exercises and group discussion, you will learn to anticipate, appreciate, and engage with another EnneaType's relationship challenges and strengths. In other words, "How I can get along better with you."
You'll leave the session with fresh ideas and an action plan to create a stronger, more authentic, compassionate, relationship with yourself, as well as establishing a solid bridge to an important other in your life.
Sandy Hogan
2018
2018 IEA Global Conference
Cincinnati, Ohio, USA
The following content is accessible for members only, please sign in.
DO log in with the personal email address for your IEA member account.
DO NOT log in with an email address for an Accredited Enneagram School (AES) accounts or Accredited Training Program (ATP).

AESs and ATPs no longer have separate accounts.

Instead, log in with the sponsor's IEA member account in order to make changes.
If you believe this is an error, try signing out and signing in again.